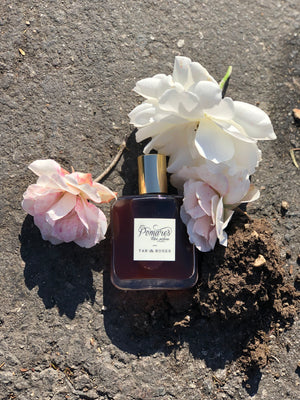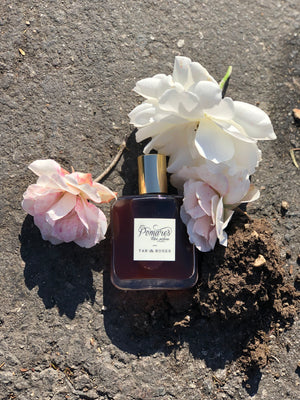 On Sale
Tar and Roses 2022
"One whiff and I was in the barrel room of a winery in Barolo, Italy, with an intoxicating mix of rose petal, cherry and raspberry and baking spice, blended with the oak barrel notes of cinnamon and roasted coffee bean. Tar & Roses starts off bold but mellows over time as wine does in the glass."- Taste TV Judge and Wine Journalist 

This vintage is brighter fruit fuller rose and smoother than 2022 vintage.
This perfume has been my deep dive, my love letter to Barolo. An exploration of what happens when you put the ingredients from the famous aromatic notes together. A celebration of this wine that is so magical that the battle over traditional and modern styles inspired a war. This wine of Kings. So exciting now to smell the spring and summer fruits that fermented to become the base of this perfume. The cherries that stained my hands when I crushed them, the wild and amarena Italian cherries that were fermented Appassimento Style, the raspberries and blackberries I picked in the redwoods, having all gone through the alchemy of fermentation and come out the other side to help tell this story. It goes beyond the nebbia, the fog that rolls in over the Piedmonte hills every fall. It goes beyond the Nebbiolo grape itself. It is the magic that lies in those hills, those fall clouds, those centuries of Nebbiolo grapes winding their way through the townships of Piedmonte, from the soil, to the vines, to the skins, to the baroque's to the barrels, the neighboring plant life the cherries berries and cypress, Alba truffles that work their magic together creating this ecosystem that makes the Barolo region so special. How the side of one hill can create grapes so different from the other side of the hill, how a great winemaker will use this to create an even more beautiful wine. That mysterious top note that comes from those tannins meeting Slovenian oak, leaving the memory of the soil like a signature. Those roses that have completely married with red fruit, becoming a whole other fruited velvet dark red rose that opens in your glass so beautifully because they have been sleeping on the wood rounding and transforming for years. They say Barolo is like being kicked in the face by a ballerina and it is so true. Such delicacy and prettiness sitting opposite that acidity and tannic blackness. The anise that sneaks in, the tertiary notes that whisper- appearing and disappearing moment by moment- that red clay lick, the truffle, violet, espresso that only hint. Once awoken from the glass bottle, the wine changes moment by moment as if whispering the secrets that only the vines know. Ingredients- Appassimento Fermentation of Wild Tart and Amarena Italian cherries, carbonic fermentation of bing, Stella, brooks and Ranier with spontaneous/ wild ferments of Harry's Berries Strawberries (Oxnard), wild blackberries and raspberries. Blood Orange (Italy), Violet tincture (France) violet leaf, and small production distillations of roses- Ta'if (Saudi Arabia), Edward Emanation (India), Yellow Rose Otto (Georgia), White Alba (Bulgaria), Pink and White Co- Distillation Alba (Bulgaria), Damask (France), Red rowe (Turkey), 3 rose distillation (Bulgaria, Morocco, Turkey),Fresh White Alba Truffles (tincture Piedmonte Italy), Espresso, whisper of saffron, anise, Italian orris, Tea Absolutes (Wild Veil) Wild Tree Purple Black, Lapsang Souchang and Three Cranes, Italian Cypress, Fossilized amber, 19 year old Sri Lankan vetiver, Borneo and Cambodian Oud Resin (Ensar), Oud Yusuf (Ensar), Dhul Q (Cambodia, Ensar), and KING KAMBODI (Pursat, Koh Kong, Ensar), Papua Oud Resin (Oud Base), Hindi Oud (Feel Oud), Tahitian Vanilla (Ta'haa island) Aged on Slovenian Oak and in red clay amphorae.
The 2022 Vintage has both aged perfume wine (berries and cherries) for depth and young perfume wine for brighter top notes. More rose in this vintage! Double the Ta'if.