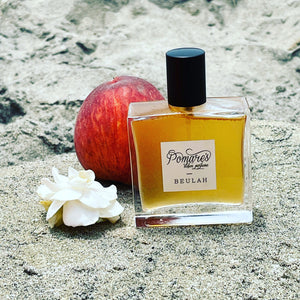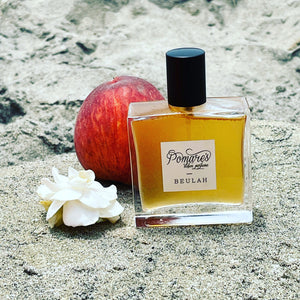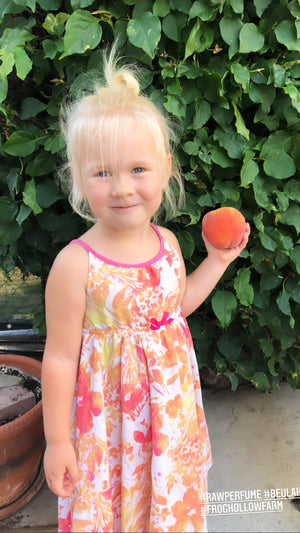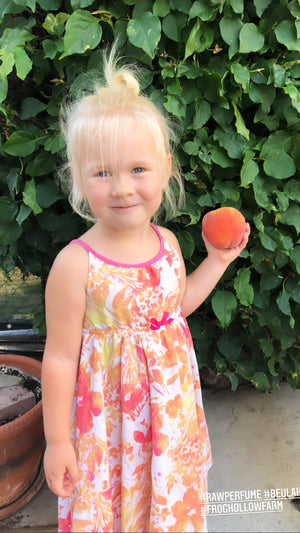 On Sale
Super Beulah
2022 Peach Harvest, 2023 Release
The smell of summers in my grandmother's yard: adjacent to orchards and full of overgrown flowers, and that moment when the hundred degree heat would break for a summer shower. I used to wear sandalwood non stop- the addition of the mitti attar, an Indian sandalwood made to capture a petrichor quality- helps transport me to those endless afternoons when my grandmother would start telling the good stories and embellishing with true vigor. 
🍑On a side note, Beulah raised six kids nearly all on her own. When you wear this, may you channel your inner Beulah who never stopped telling tall tales, fighting, dancing and putting family first. When I spray this perfume I remember her listening to the song honeysuckle rose and her telling stories of her lost love.
Frog Hollow Farm Peaches:
Regeneratively farmed Cal Red and Autumn Flame peaches, hailed by the New York Times as "good enough to make farm-stand peaches blush"
Perfume Vinification:
Partial malolactic fermentation, aged on skins for six weeks with minimal oxygen before first press then aged sue lie for an additional four months prior to final racking and filtering.
Gardenia, star jasmine, honeysuckle, roses (Georgia, Turkey, Bulgaria), Hawaiian Sandalwood, Tamil Nadu Sandalwood, and Mitti attar